St Columba's, Queen Street, Nairn, IV12 4AA
Dear Friends,
There is a picture permanently etched in my mind; it is of four friends, Maggie, Dorrie, Joan and Stella standing outside the church in which they were deacons. It was taken on a snowy December night just before they went to the cathedral in Aberdeen to be ordained priests. Like many women, they had waited a long time for the church to agree to them being ordained, so it was a real celebration that they could finally fulfil the ministry that they felt called to. After ordination they all eventually took up their own charges; all except Dorrie who remained at St. Mary's and among her tasks sought to mould the next generation of female clergy, one of whom was a raw recruit transferring in from the Church of Scotland who you might know rather well. Dorrie was a former RAF officer and very strict, but we became good friends. Approaching 90 years of age she cajoled fellow members of her congregation into driving her to Inverness when I was made a Canon of the Cathedral and she came with me when I was invited to lead prayers at the Scottish Parliament, just to make sure my shoes were properly polished and my black suit was immaculate !
Sadly, Dorrie died a few years ago and won't be there on 14th December this year when the church celebrates the 25th Anniversary of Women's Ordination to the Priesthood but she, and many others like her who have passed to a greater glory, will be remembered along with all those who fought so hard to make our church the rich, diverse and colourful place it is now. I hope she is pleased that her scruffy raw recruit is now one of the three women in the church who are Deans and Rectors of a Charge where all the active clergy are women. I hope she is also pleased that the celebration service in St. John's Cathedral in Perth will be conducted by two women, one who is a Bishop and the other Principal of our college, because back in 1994 when those first women were ordained, where we are now would have been unimaginable. So, the 14th December this year is a really special day for many of us, recalling the struggles of the past, giving thanks for the ministry of so many faithful people and celebrating who we are now. The clergy team at St. Columba's will have its picture taken to be posted on 14th December to mark this occasion; all I'm going to say for now is, I hope when you see it you like it !
Change and diversity are part of the life of our church and it is important that we try different things and explore different means of communicating the gospel. This Advent we will be doing something different; instead of the Advent wreath there will be several stations in the church where there is the opportunity to reflect on our Advent journey. We also have crib figures travelling round the parish following the pattern of the "Postada" which comes from the church of South America and, with the help of the children, we will be attempting something resembling a Nativity ! (it is so nice to have colleagues who are braver than I am !!!) As well as these special things, we have our usual variety of worship and celebration over the Christmas period. We hope you will enjoy what is offered and find something in it all which gives this wonderful time of Advent and Christmas a deeper meaning.
Wishing you every blessing for Advent, Christmas and Epiphany.
Dean Alison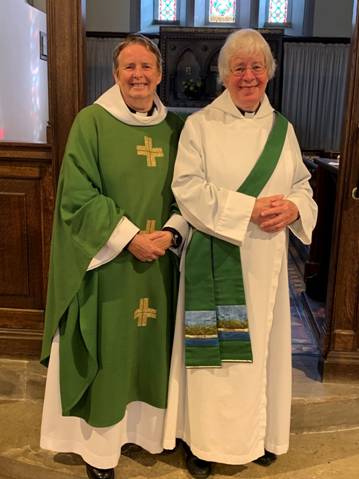 Dean Alison J Simpson and Rev. Kathryn Sanderson