St Columba's, Queen Street, Nairn, IV12 4AA
RECTOR'S LETTER
Dear Friends,
I hope you have all had some time to relax and enjoy the glorious sunshine we have had this summer. We all need time and space for ourselves, to restore our energy levels and spend time with friends and family and I think this is the first year that I can recall being able to plan a barbecue rather than rush around at the last minute because there might not be another chance of an evening of warm sunshine. However, as we recall the weather which has been so good for us, and also, as we approach harvest time, spare a though for our farmers who may struggle over the winter months because poor grass yields mean limited supplies of fodder.
We will be celebrating Harvest Thanksgiving on Sunday 7th October and our harvest offering this year will go towards the work done through our Cathedral in supporting vulnerable families in Inverness and the surrounding area. There will be more information nearer the time.
On the same day we will also have the opportunity to enjoy Choral Evensong in the company of young musicians from Gordonstoun School and that service will be at 6:30pm in the evening.
This August also begins a project of our own in supporting those who are in need in our own community by providing a monthly lunch in the church hall. We have no idea how this will go and it may be a while before it becomes established. What we do know already is that there has been widespread support and encouragement from the community and everyone who has spoken to me has said the same thing – this is something which is badly needed and we are delighted that you have thought to do this. So thanks to all of you who have already volunteered and made donations and we will hope and pray that people feel able to come and find support and friendship from us.
This September brings with it another anniversary for me personally. I will be ordained thirty years and, in token of that, Stephen and myself are hosting a lunch for everyone on Sunday 23rd September in the
Church Hall. Please sign the list in the porch if you are able to come just to give us an idea of numbers for catering.
There will also be a return of the St. Francis Blessing of Animals on Thursday 4th October at 7pm. This is the Feast of St. Francis of Assisi and, as has become our practice, donations from that service will go to our local SSPCA.
Our congregation has a rich and varied life and it is thanks to the gifts and talents of a great many people that we are able to share our mission in this community is so many ways.
Thanks to you all !!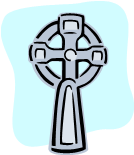 With every blessing,
Dean Alison